Our Gateway ENE-F converts E1 signals into Optical signals. This allows an ENE signal to get connected over long distances using Fibre Optic Channels. It is a very cost-effective and flexible solution to connect ENE equipment such as PABXs, Exchanges, or Routers. Data rates of nx64kbps from 64Kbps to 2048kbps are supported. The Gateway ENE-F conforms to ITU standards G.703 and G.995. A variety of Optical Interfaces with a choice of Connectors, Modes, and Wavelengths allows the Gateway ENE-F to operate in a range of applications. Front Panel Switches offer Loopbacks and LEDs provide visual indications of the Electrical and Optical Links.
Application Diagram

Our Optix e is a Media Convertor between 10/100 Base-T Fast Ethernet & 100 Base-FX/100 Base-LX.
Our Gateway ene /ES and /ESL are very cost-effective and flexible Etherent Access Products. They offer connectivity to MPLS/IP networks over ordinary Twisted Pairs using SHDSL.bis. The Gateway e/ES uses two bonded SHDSL.bis pairs to offer speeds of up to 30Mbps. It automatically operates at reduced rates if one of the wire-pairs is damaged or disabled. Similarly, restoral to higher Bandwidth is automatic when the unused pair is enabled. The /ESL is a low-cost product offering 13 Mbps on a single Pair. Both products offer a reach of up to 10 KMs for lower speeds. Connectivity at 4 Mbps is supported over TDM networks when used with G.703 Modems & the Mux
The Gateway /ES & /ESL are equipped with four FE ports for versatile LAN access. They provide VLAN &QoS capability for differentiated services. Local management is via a Serial Console. In-Band Management via HTTP, Telnet is supported from local or remote locations. SNMP is supported in Gateway /ES only. A bank of LEDs provides a comprehensive status indication.
Performance and Reliability are the hallmarks of all products and these products are no exceptions. The Gateway e/ES & /ESL are designed to meet stringent operating conditions. The Power Supply can be used with AC or DC power & operates over an extended range. The Line interface is equipped with a protection circuit designed to withstand Power Surges as per ITU K.20/K.21 standards.
Application Diagram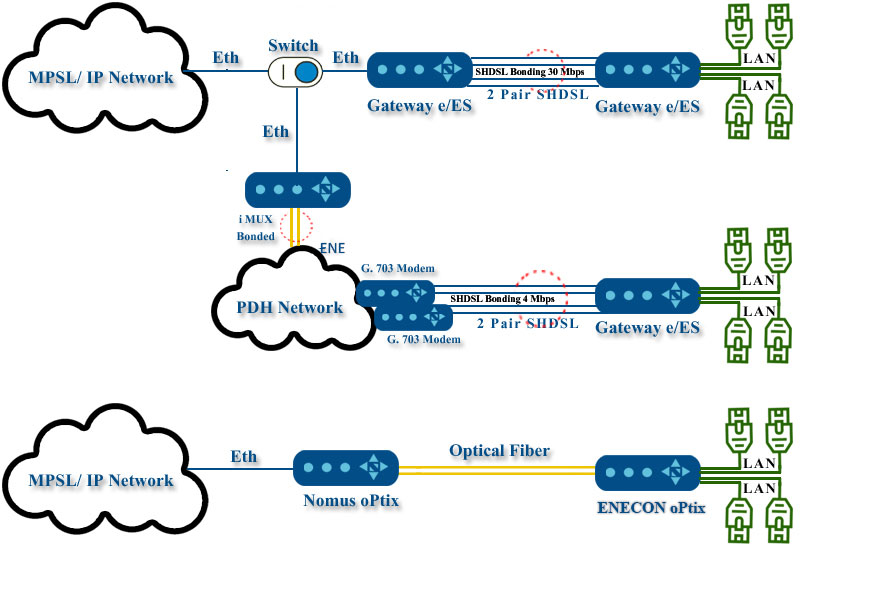 The T-Mux is an STM-1 Terminal Mux CPE. When used opposite an STM Add-Drop Mux, it provides an economical means of transporting 4 E1s & Ethernet Data over SDH networks. When used as a pair, it provides point-point connectivity over a fibre-optic link.
The T-Mux WAN STM-1 interface is provided with a choice of LC or SC connectors. Various fibre modules can be provided by, based on user requirement. It optionally supports 1+1 MSP protection. Clocking modes supported are: Internal, Recovered from STM or from E1.
The T-Mux provides 4 E1 interfaces operating in unframed & balanced mode, conforming to ITU G.703. The E1 data is mapped to 4 VC12s in a single VC3. The T-Mux also supports 2 FE ports for Ethernet data transported by bonding 2 VC3s for a bandwidth of 96.6 Mbps. Encapsulation & Bonding is based on industry standard GFP/VCAT/LCAS. It provides bridging or transparent mode with support for VLAN frames. It provides VLAN & DSCP based QoS with rate limiting.
The T-Mux provides a complete management suite on an out-of-band Ethernet Console for HTTP, Telnet & SNMP based management. Front Panel switches provide per channel loopbacks with visual status being provided by LEDs. Power supply is through an internal SMPS which supports both a wide range AC or DC inputs.
Application Diagram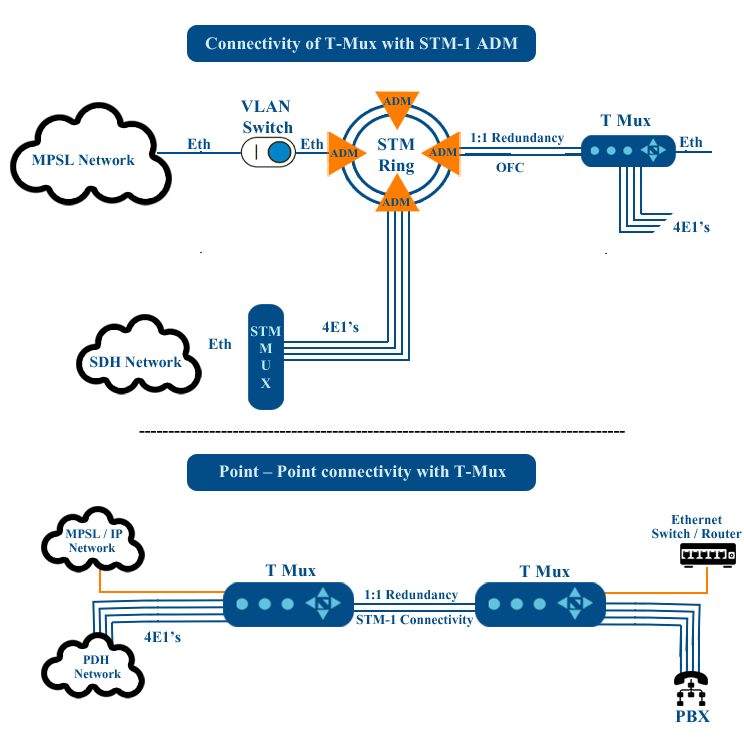 Our Gateway ENE-F converts E1 signals into Optical signals. This allows an ENE signal to get connected over long distances using Fibre Optic Channels. It is a very cost-effective and flexible solution to connect ENE equipment such as PABXs, Exchanges, or Routers. Data rates of nx64kbps from 64Kbps to 2048kbps are supported. The Gateway ENE-F conforms to ITU standards G.703 and G.995. A variety of Optical Interfaces with a choice of Connectors, Modes, and Wavelengths allows the Gateway ENE-F to operate in a range of applications. Front Panel Switches offer Loopbacks and LEDs provide visual indications of the Electrical and Optical Links.

Application Diagram

Our Optix e is a Media Convertor between 10/100 Base-T Fast Ethernet & 100 Base-FX/100 Base-LX.

Our Gateway ene /ES and /ESL are very cost-effective and flexible Etherent Access Products. They offer connectivity to MPLS/IP networks over ordinary Twisted Pairs using SHDSL.bis. The Gateway e/ES uses two bonded SHDSL.bis pairs to offer speeds of up to 30Mbps. It automatically operates at reduced rates if one of the wire-pairs is damaged or disabled. Similarly, restoral to higher Bandwidth is automatic when the unused pair is enabled. The /ESL is a low-cost product offering 13 Mbps on a single Pair. Both products offer a reach of up to 10 KMs for lower speeds. Connectivity at 4 Mbps is supported over TDM networks when used with G.703 Modems & the Mux
The Gateway /ES & /ESL are equipped with four FE ports for versatile LAN access. They provide VLAN &QoS capability for differentiated services. Local management is via a Serial Console. In-Band Management via HTTP, Telnet is supported from local or remote locations. SNMP is supported in Gateway /ES only. A bank of LEDs provides a comprehensive status indication.
Performance and Reliability are the hallmarks of all products and these products are no exceptions. The Gateway e/ES & /ESL are designed to meet stringent operating conditions. The Power Supply can be used with AC or DC power & operates over an extended range. The Line interface is equipped with a protection circuit designed to withstand Power Surges as per ITU K.20/K.21 standards.

Application Diagram

The T-Mux is an STM-1 Terminal Mux CPE. When used opposite an STM Add-Drop Mux, it provides an economical means of transporting 4 E1s & Ethernet Data over SDH networks. When used as a pair, it provides point-point connectivity over a fibre-optic link.
The T-Mux WAN STM-1 interface is provided with a choice of LC or SC connectors. Various fibre modules can be provided by, based on user requirement. It optionally supports 1+1 MSP protection. Clocking modes supported are: Internal, Recovered from STM or from E1.
The T-Mux provides 4 E1 interfaces operating in unframed & balanced mode, conforming to ITU G.703. The E1 data is mapped to 4 VC12s in a single VC3. The T-Mux also supports 2 FE ports for Ethernet data transported by bonding 2 VC3s for a bandwidth of 96.6 Mbps. Encapsulation & Bonding is based on industry standard GFP/VCAT/LCAS. It provides bridging or transparent mode with support for VLAN frames. It provides VLAN & DSCP based QoS with rate limiting.
The T-Mux provides a complete management suite on an out-of-band Ethernet Console for HTTP, Telnet & SNMP based management. Front Panel switches provide per channel loopbacks with visual status being provided by LEDs. Power supply is through an internal SMPS which supports both a wide range AC or DC inputs.

Application Diagram